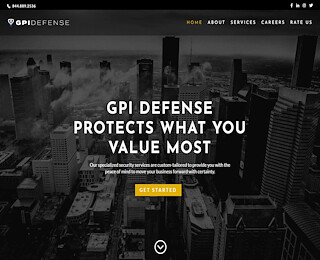 With constant crime on the rise in Texas, people are looking for practical solutions to keep themselves and their assets safe. Alarm systems, security systems, and police play an integral role in all of our safety. Still, people realize that they need to do more to protect themselves from crooks. That is why there has been a boom in private security in Conroe, TX.
Unable to rely on the police to solve all of their safety concerns and address all of their security threats, citizens, business owners, and others are turning to private security firms, such as GPI Defense, in record numbers. People choose GPI Defense to manage their private security detail for a number of reasons, including the fact that GPI Defense utilizes the best security strategies, technology, and provides affordable pricing.
The Need for Private Security in Conroe, TX
GPI Defense is a small private security firm that is booming. Every day, we find people where they are not supposed to be, doing things that they are not supposed to be doing. Some people are homeless, and others burglars or trouble-makers. More and more people in business - even realtors - are looking for reliable, affordable protection. GPI Defense gets calls around the clock from shopping malls to banks and private businesses. We pretty much do what law enforcement does but on a privatized level.
Criminals keep us busy! Ever since GPI Defense started in the security business, we've seen nothing but an uprise in crime. We hire security guards all the time, and still, we struggle to keep up with the needs of the community. We can't hire security guards or buy enough units fast enough. We say this not because we are proud of this fact but because the need for private security companies is increasing that much!
Today, we are getting a lot of burglar alarm responses and responses to crimes in progress. Private security is filling a gap where law enforcement is short-handed. One of the main benefits of our service is that we cut down response times for our clients.
Why Choose GPI Defense for Private Security?
GPI Defense works hand-in-hand with law enforcement. Our private security firm is a great resource and tool for the police. Even when police are fully staffed, there is still a need for our security services. As the leading private security firm in Conroe, TX, GPI Defense is dedicated to providing our clients with reliable and professional security services. All of our security staff is carefully selected and thoroughly screened. We are also friendly and professional, offering a safe and cooperative working environment. Additionally, GPI Defense is a fully licensed, insured, and bonded company for your protection.
When it comes to private security in Conroe, TX, choose GPI Defense, the private security firm that has an extensive military and law enforcement background. You are in good hands with us. Call us today for a free security consultation and assessment. We'll put together a personalized security plan for you and provide you with a proposal.
Private Security Conroe Tx