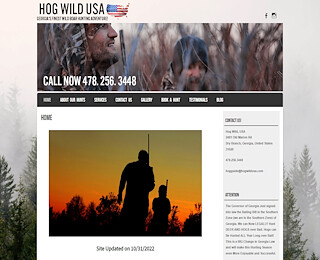 Hunting has developed more into a sport and less of a necessity to survive. Where hunting was once the main source of food, it has now transformed into a family friendly activity that everyone can enjoy. Unless you have a large property or know someone with a large property, going hunting can be an activity that you don't often get to partake in. Tennessee hog hunting has recently grown in popularity among hunting enthusiasts. If you are looking for the ideal Tennessee hog hunting experience, do not delay in reaching out to our team at Hog Wild USA. We have a thousand plus acres for you to roam while hunting wild hogs. Hunters can even book a hog hunt right on our website. There has never been a better time to enjoy the adrenaline rush that hog hunting can provide.
Do I need to bring Supplies and Gear?
At Hog Wild USA, we provide loaner equipment so that everyone can enjoy the thrilling hog hunts that we offer. It is fine if you wish to bring your own equipment. We offer rifles, optics, and even night hunt mounted flashlights. Our team can even provide you with a father son hunting stand. Hunters will need to wear hunter orange as required by law. The following is a list of suggested supplies to bring along.
GPS – GPS is handy in case you get separated from your group or become lost. It is also a good idea to bring a compass in case the GPS system fails.
Two Way Radios – Cell phone coverage is not always reliable. Two way radios can allow you to stay in touch with your hunting party.
Camouflage Clothing – Wear rugged clothing that can protect against the elements as well as parasites.
Hunting License – You will need a Tennessee hunting license to be able to go on one of our hog hunts.
What to Expect from a Hog Hunt                                     
Hog hunting can be an exhilarating experience that is unmatched by any other sport. Hunters can expect to enjoy plenty of acreage to explore and hunt. Despite having short legs, wild boar can be fast. Expect a thrilling hunt that will leave you feeling invigorated. Once you have bagged a hog, you can expect help bringing it back as a trophy. Feel free to take pictures of your kills to share with others. The best hunting time for wild boars is in the early morning and early evenings.
Safety and Hog Hunting
Safety is very important when on a wild hog hunt. Hunters must wear hunter's orange to make themselves visible to other hunters. Another safety tip when going hog hunting is to make sure the boar is completely down before you start to approach it. Gun safety is also important while on a hog hunt. Be sure to wear safety equipment such as earplugs.
If you are interested in an affordable Tennessee hog hunt, our team at Hog Wild USA can provide you with exactly what you are looking for.
Tennessee Hog Hunting
Hog Wild, USA
478.256.3448
2481 Old Marion Rd Dry Branch
Georgia
United
States 31020
View Larger Map